E-commerce is a rapidly growing industry, with global sales expected to top $6.54 trillion by 2023 according to Statistica, meaning that there is never a better time to sell products online. Unless your company is prepared to manufacture or create your products yourself in-house, the best option is product sourcing.
In this guide, you'll learn everything you need to know about product sourcing including: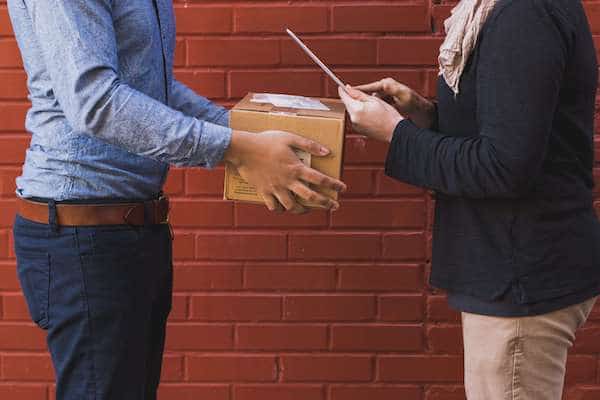 What is product sourcing?
Product sourcing is the process of finding products you want to sell, buying them from a third-party (supplier, manufacturer, online company) and then reselling them. In more detail it encompasses researching the market, finding high-quality products to source, price and cost calculations, negotiating with suppliers, establishing a standard of quality and getting your products to market.
There are a number of ways to source products, with the majority of online retailers using four popular methods: working with a manufacturer or supplier, working with a wholesaler, working with a dropshipping company or creating products that are handmade.
How to research products to sell
It's a good idea before you begin sourcing products, you know what products you want your online store to sell. Good research informs your product, and the fact that it happens early in the product sourcing process will save you time, money and resources because fewer adjustments will need to be made in the future.
Google Trends is a really easy and free way to see if there is an online demand for the product you want to sell. The search feature allows you to see the popularity of a search term in Google, so if you're using it to see how popular a product will be, Google Trends can tell you how many times it has been searched. You can see if a product has been searched more or less and find insights into demographics, regions and related topics and searches.
How to use Google Trends
For this example, we're researching the product 'water bottle'. Once you've entered the product you want to research, you're able to choose what country you want results from and a section called 'interest over time'. In this section you can see the search volume for the product over a certain period of time that includes hours and days.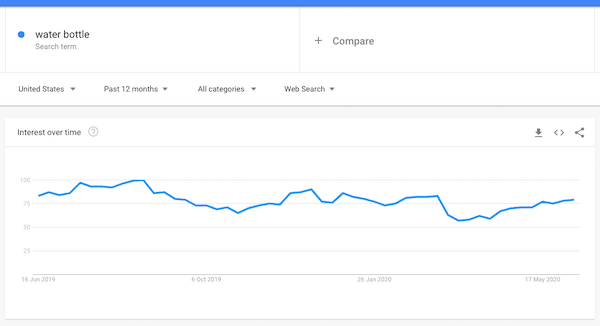 An interesting option in Google Trends is that you can see the search volume in different parts of your selected country. In the 'water bottles' search, you can see that more people searched for the product in New Hampshire than New Jersey, and you can even compare how many people searched for the product in every state.
You can also click on the New Hampshire section to see the search volume for that sub-region for a certain period of time, you're able to do this for every sub-region in your selected country.

At the bottom of the screen, you'll be able to see two sections called, 'related topics' and 'related queries'. The lists in both show other terms people who have searched for 'water bottle' have also searched for. Both sections are split into 'top' which displays the most popular topics and 'rising' that shows topics with the biggest increase in search frequency since the last time period.

Using consumer trend publications and marketplaces
Publications and online marketplaces that feature consumer trends are a great way to find what products are trending in a particular marketplace and are most likely going to sell really well if you also sell them. Since the e-commerce space is becoming more and more competitive, using consumer trend publications and marketplaces to see what the latest trends and products are is an excellent way to stay ahead of your competitors.
There are a number of popular online publications including:
Trend Hunter: Trend Hunter is one of the most popular online trend communities with 20,000,000 monthly views and over 137,000 members worldwide. They use human researchers, AI and leverage big data to find the most favourable consumer trends and insights.
TrendWatching: TrendWatching is another incredibly popular online trend community that features quarterly publications, newsletters and online articles to update their followers on the latest products and trends.
Springwise: While Springwise isn't as widely known or as popular as the other examples, their focus is to keep companies up to date with current innovations and ground-breaking ideas, meaning that you're getting information about a product in real time.
If you're looking for an exact product and the market it's in, it's more beneficial to use an online consumer marketplace, such as:
Different product sourcing methods
There are a number of different methods retailers can use to source their products, and it's important to research them to understand which one is best for your business and its needs.
Manufacturer/Supplier
A manufacturer or supplier is a company that makes products from scratch and directly sells them in bulk to a retailer or wholesaler. They're known for having a high minimum order quantity (MOQ), meaning that you will have to order products in large quantities and find a place to store the stock to ship to customers. When you use a manufacturer, there is a significant financial investment upfront, but you will be getting products for a lower price and making more profit with each sale.
A manufacturer's size can impact its capabilities, namely by not being able to make enough products to meet demands. Smaller manufacturers may have trouble producing enough products through busy periods, such as unexpected sales spikes, holiday specials or a successful promotion. It's important to work with a manufacturer that's size works with your company's needs.
Benefits: Since a retailer is working directly with a manufacturer, they're given the lowest rates per units produced and therefore can set their own price allowing them to have a higher profit margin. Retailers are also able to request samples, meaning that they can make sure their products are high quality and exactly what they ordered.
Disadvantages: The high MOQ is a massive disadvantage for smaller businesses looking to use a manufacturer, since they might not have the need, storage capabilities or money to purchase that many products. Since retailers are purchasing the majority of the products upfront, if there is a change in the market or the item is no longer popular, they're stuck with a lot of products they won't sell.
Wholesale
Wholesalers are middlemen between manufacturers and retailers. They purchase products directly from manufacturers and resell them to retailers for a higher price. It's important to note that wholesalers don't actually make the products they sell, their main focus is distributing the products in bulk quantities. Similarly to manufacturers, you will have to order products in large quantities making it a large financial investment upfront, but because retailers buy the products at a low price they can make more profit with every sale.
Benefits: Since retailers are purchasing products in such large quantities, there is always going to be plenty of stock to sell to customers. Retailers are also able to be sent samples, so they can make sure the products they're selling are high quality and exactly what they ordered.
Disadvantages: The biggest disadvantage is that because retailers are purchasing the majority of products upfront, if there is a change in the market or the item is no longer popular, they're stuck with lots of products that won't sell. Another disadvantage is that they don't ship the products to the customer, so when you buy them you have to have a place to store the stock.
Dropshipping
Dropshipping is the only product sourcing method where retailers don't have to handle the products they're purchasing at all. The retailer doesn't have to store any stock or buy it in bulk. They pay the wholesale price for the product and a small shipping fee and the dropshipping company packages the order and sends it directly to the customer.
Benefits: Retailers do not have to purchase products upfront to receive the inventory, meaning that there is less risk associated with dropshipping because they're not going to lose a lot of money if they can't sell the products or the market changes.
Disadvantages: Retailers are not able to see the product in person before it's sold, unless they request a sample first which they would most likely have to pay for. Retailers also do not have complete control over order processing, restocking product or shipping.
Handmade
Selling handmade products is becoming more and more popular with customers looking for unique, one of a kind items. With this method, retailers would be making the products themselves, rather than purchasing them from a third-party.
Benefits: Handmade products are considered more eco-friendly because the majority of mass-produced items are made overseas and require long-distance shipping to get to the customer. This requires mass transportation of goods (usually on a cargo ship) which raises the carbon footprint and fuel emissions your company produces. Retailers who sell handmade products have complete control over what products they sell, their cost, how many you have in stock and the packaging of the products.
Disadvantages: Retailers have to source all of the materials for their products themselves and take the time to make them. Retailers who sell handmade products have to consider the scalability of the company; if there is a massive increase in sales for a particular product will they have the time and resources to keep up?
If you want to know how to find a supplier or manufacturer, check out our article here.
What are the differences between a sourcing company/agent and a sourcing website or B2B portal?
When you begin to look for different companies to source your product from, you will come across sourcing companies/agents and sourcing websites or B2B portals.
What is a sourcing company/agent?
Sourcing companies are a third-party that helps retailers find manufacturers or suppliers to work with. They have practices in place to help businesses find and evaluate manufacturers in terms of cost, lead time and quality control. Sourcing companies do vary in size, with sourcing agents doing freelance work outside of a company, small-to-medium-sized sourcing companies and large sourcing companies that usually only work with large retailers.
Sourcing companies or agents are mainly used when businesses are looking to work with international manufacturers, primarily China. This means they will have a good knowledge of the language, traditional business customs and international trade procedures. A sourcing company or agent might be expensive to work with, depending on the size of your business and how many products you plan on ordering from a manufacturer.
What is a sourcing website or B2B portal?
A sourcing website or B2B portal is an online platform designed for companies or retailers to interact with suppliers, manufacturers and distributors. As a retailer, you're able to search for a specific product and the website will show you thousands of options of products you can buy from thousands of suppliers or manufacturers. It's important to note that the majority of sourcing websites are for Chinese suppliers, and there are not many that feature Australian manufacturers.
Chinese Sourcing Websites
Alibaba: Alibaba is easily the most popular international B2B platform, but it does have quite a negative reputation with a lot of companies claiming they've been scammed by Chinese manufacturers through the website. Despite this, they have a trade insurance program that protects orders until retailers receive them and display reviews on their website.
DHgate: DHgate are known for their lower MOQ compared to other sourcing websites and their payment handling system that only passes payments to the seller when the buyer confirms they've received their goods.
Made in China: Made in China is recommended if your company is looking to source industrial products, auto parts and accessories, sporting goods and computer products. They provide inspection and reporting facilities on their website to allow companies to choose a legitimate supplier.
Global Sources: Despite not having trade insurance, Global Sources is Alibaba's biggest competitor. However, it does have a rating system and reviews so use these to find a reliable and trustworthy manufacturer.
How to contact potential suppliers and manufacturers
Once you have an idea of the company you would like to source your products from, you need to contact them. Depending on the location of the company, you can call them, but if there is a possible language barrier, the best option is to send them an email.
This first email should include:
Who you are, what company you work for and where it's located
The company's background – what reputation do they have
What the specific details are about the product you're wanting to source from them
Placing an order – what will the price be, what is their MOQ
What shipping options they have
If they offer return or refund policies
What their customer service is like
You should be very honest and upfront with the company and let them know clearly what your expectations are. You don't need to get into specifics, it just needs to cover basic details about possibly sourcing products from them.
Businesses can use Metafuro to communicate with potential suppliers and store their discussions in a central location. Find out about Metafuro's Supplier Relationship Management Software here.
The do's and don'ts of product sourcing
Do:
Ask for samples – You should always ask a potential supplier to send them a sample of the product you're wanting from them for your approval before moving forward. Getting samples from a company is an important part of the process because it allows you to check the quality of the product, how it was shipped to you and how long it took you to receive it. Upon receiving the sample of your product, you should inspect and test the quality of it and if it looks like how you want it to look. This is incredibly important as it allows you to negotiate with the supplier or manufacturer about your product so you can get it exactly how you want it. This might take multiple samples, and a lot of back-and-forth communication with the company.
Make your product affordable – In order to do this, you should have a good understanding of the market you are selling your product in and what brands are charging for a similar product. If your product is too expensive, customers will just purchase the item from another store.
Know what product you want to sell – If you don't have any idea on what product or products you want to sell, you shouldn't be contacting any product sourcing companies. Knowing exactly what you're after will help you choose a company who can actually make that product and help when you start communicating with them.
Do thorough research: It's your responsibility to do proper research when looking to work with a new supplier or manufacturer. You should also look into the products you want to source from them to make sure you're not going to get scammed or are going to sell any products that are faulty or counterfeit.
Don't:
Just contact one company – You should always keep your options open when it comes to working with suppliers or manufacturers. If you only contact one supplier, you could be missing out on a company that is a really good fit for your company, or an incredible deal on a product.
Feel like you're asking too many questions – You can never ask too many questions when it comes to product sourcing. Questions you should be asking include:
What types of businesses do you usually work with?
What are your payment terms?
How big is your factory?
What is your quality assurance process like?
Where do they get your materials from?
Only use Google to look for companies: You shouldn't just google 'wholesale supplier' or 'dropshipping company' when looking for a company to source products from. A really great option is going to trade shows, where you can talk to thousands of manufacturers or suppliers in person. You can also find potential partners using trade magazines or referrals from businesses that are similar to yours.
The product sourcing process can be stressful and take a long time. We hope this article has helped you understand some of the important aspects pf the process and helps you get started sourcing products.
If you find yourself needing more help with the process or want to be put in touch with suppliers, reach out to us.