Discover how Dundies is providing a convenient solution for pets everywhere.
Dundies is a company that sells handmade reusable and environmentally friendly dog undies. Launched in October of 2019, Emily Martin created the company after rescuing a puppy named Sophie.
A self-confessed animal lover, Emily designs and sews all of the nappies herself. Their range includes dog nappies and diapers, reusable pet nappies, belly bands, dog powder, dog wipes and snappies. Dundies is the only pet nappy company in the world that is completely free from slave labour and has high ethical standards employed across the entire production chain.
MetaFuro spoke to Emily about Dundies' sustainable and environmentally friendly practices and how they provide a convenient solution for pets everywhere.
Tell me a little bit about your company and how it was created?
Dundies was created as a result of a little British Bulldog puppy named Sophie, who our logo is based upon. By chance I came across a very sad Facebook post saying this adorable little 6 week old pup was unfortunately scheduled to be put to sleep due to birth defects that were causing quality of life issues (definitely not the case now). Well no way not if I had a hand in this situation, so immediately I contacted this person and as they say – the rest is history. Off I set on a 2 hour round trip to rescue this precious little bundle of wrinkles and it was love at first sight. Fate had worked her magic and we were destined to be. Sophie undertook sessions of acupuncture and hydrotherapy as she not only suffered from complete bowel and bladder incontinence, she was also quite unsteady on her feet. This too was catered for with her very own little pink wheelchair.
Being a full time Uni student, the cost of disposable nappies was consuming my minimal income at an alarming rate and not to mention horrified me at the environmental waste I was attributing too. I knew there had to be a better solution. Being quite handy on the sewing machine, I designed and created her first pair of reusable nappies (and can I say, we have come a long way since the original prototype). People started commenting on the little dog in the nappy when I took her out, asking "where did you get that from" and "would you make me one". As the interest grew from posts of Sophie on my social media, I had a light bulb moment, why not make this a little hobby and sell these at markets etc. From here 'Dundies' was born.
Tell me a little about yourself?
I'm 21 years of age and a full time university student studying Midwifery. I also work a casual job in retail to help with the costs of running Dundies. My fur family consists of 2 Great Dane crosses and of course my special girl Sophie whom Dundies was established around. In my spare time I like to … who am I kidding, I don't have spare time! I am a self-confessed perfectionist so whatever I undertake it's all or nothing. Definitely a stress head (but weirdly enough I thrive on it) and most importantly an avid animal lover.
What products are core in the Dundies range?
I have three products in my range, the 'All in One' nappy for severe incontinence, the 'Snappie' for smaller accidents, heat and travel and for the boys the "Belly Band'. I am currently working on the design and production of reusable 'Puppy Pads' as well. We have also collaborated with another small local business to create a 'Doggy Talc Powder' for use in conjunction with all our nappies.
What is the process of creating your products?
All our Dundies products are 100% original from the first sketch of the design on paper, converting to a pattern, researching and purchasing materials, through to completion. Each nappy is made to order upon receiving notification through our website. From order to completion it can take up to 10 business days before orders are ready to be sent out. At times I can also be held up due to material supply, but I always try to have a good range ready on hand. At this stage I unfortunately do not have a stock supply of ready-made nappies due to time constraints but this is something I have plans to rectify as the business continues to grow. I have also made a few special custom size orders for those odd shaped/size doggos out there.
How do you find the process of creating your products and getting samples of your designs?
As each individual nappy is all done by hand, it is a very time consuming process, so when large orders come through, my anxiety levels rise and the bedlam begins. I have completed a full set of nappies in each available size in a custom Dundies logo print that I take to markets etc for sizing purposes only and so the customers can touch and feel the quality and layers of materials that go into each nappy.
How important was feedback and collaboration to you during your design process?
Before launching my range, I selected a group of shall we say 'Crash tests doggies' to wear the Dundies for a numerous range of reasons. They were tested on comfort, durability, absorbency, washing and ease of use. I have even had the stamp of approval from cats and I 'Kidd' you not…… a baby goat. All feedback was taken very seriously and with a few little tweaks the final design was completed ready for launch.
How did you go about becoming sustainable, and what does the process look like to make sure all of your products are sustainable or eco-friendly?
Sustainability was a 'MUST', after all, that was the driving factor for creating a reusable pet nappy, to help reduce our carbon footprint on our already overloaded earth. All materials used to produce a pair of Dundies (with the exception of the plastic snap clips) are 100% biodegradable. Most pet nappies are not only filled with chemicals, but are destined to stay on earth for up to 500 years in landfill before they break down. That's 50 times your pets lifetime. At Dundies we know cloth is not only the better choice for our earth, but also the comfort of your pet. So that's why we make sure our animal hygiene system is so easy to use. When it came to designing the packaging for our amazing nappies of course it too was going to be 100% recyclable/biodegradable. Constructed of cardboard and non toxic inks, you can even throw it in your compost bin should you choose. All materials from product to packaging were thoroughly researched, before sourcing and ordering for production.
Why is it important that your company focuses on being environmentally friendly and sustainable?
Being environmentally conscious should be a goal we all should strive to achieve even if it is the smallest contribution. Already being very earth conscious myself, it was without question my little company would follow suit. We only have one planet earth and mankind is already pushing her to breaking point, so I know I will always strive to become the change that's needed.
Where are your products made and manufactured?
All Dundies are made and manufactured in my home (spread throughout my house). By keeping Dundies manufactured in house, I have complete quality control and no product is sent out without final inspection thus guaranteeing my customers 100% product satisfaction. Should there ever be an issue with the product once it has arrived, a full refund or replacement is offered without hesitation.
How has Dundies helped to create a solution for animal urinary incontinence? What has been the response to your products?
Dundies are a product that is able to cover a multitude of animal hygiene issues.
– Bladder and bowel incontinence
– Females on heat
– Our senior pets who can have little accidents inside
– Pets that mark inside
– Protection during travel
– Helps aid in chewing after desexing, doing away with that dreaded cone of shame.
So as our motto statements says "Less cleaning, more cuddling"
The response since our launch in October 2019, to say overwhelming would be an understatement and bigger than I ever anticipated and continues to grow on a daily basis. With interest from the day to day pet owner, businesses within the pet industry both nationally and internationally, breeders, vets and rescue groups.
What does your average day look like working at Dundies?
Well every spare second I find I'm sewing, sewing, sewing. On the rare occasion I can get a full day in the studio, I'm responding to emails and messages from our customers, doing a parcel run to the post office sending orders out, ordering new supplies and materials, arranging photo shoots for my website, booking events and most importantly working on ways to grow my business further to get the 'Dundies" name out there in the animal world.
What were you doing prior to starting the company?
Prior to starting Dundies, I attended Uni and for 2 years I had another small venture called 'My2W's, named after my then 2 dogs Winston and Willow. This too was all individually designed pet accessories I made myself such as collars, leads, harnesses, bandanas and the occasional special request for dog clothes/costumes. As you can tell I have always had a passion and interest in the pet industry.
What have been your biggest pinch me moments so far?
Wow, there have been a few already. I have established an overseas buyer in Singapore who has already placed numerous large orders, but I would have to say the biggest so far has been being contacted directly by Bondi vet with a big interest in my product and company. Every day something new and exciting seems to happen in Dunies HQ.
What are the greatest challenges you've faced so far and how did you overcome them?
Firstly and definitely start up costs by far, trying to create a company from nothing but an idea to completing a product has been a huge financial challenge but luckily I have my family behind me for support to enable me to take flight. Secondly keeping up with product demand being the sole owner/operator, especially with full time university and a casual job. But I do have a little sewing guardian angel in my nana who has been behind the scenes, madly cutting out patterns for me.
What have been the biggest benefits since creating Dundies?
Knowing my little idea is having such a profound impact on pet care/hygiene, keeping pets and owners together without barriers, and the amazing feedback from my supportive customers. When you really do have a true passion for something, you just find a way and make it work.
Any tips or advice you have for someone looking to start their own business?
Start with your idea, put pen to paper and plan, plan, plan. Establish contacts, source materials, work out the financial costs and engage your support team. I definitely went in head first not completely ready, but finding my feet along the way. There have been and I'm sure will be many more meltdowns along the way, but hey, what's life if it's not an adventure.
What's the best piece of advice you've received from someone?
Take each day as it comes and don't get overwhelmed, it all comes together in the end (thanks mum).
Who inspires you?
Myself – Be your own inspiration, the only person you should compete with is yourself.
When did you know you were onto something special?
Before I had even come up with the concept of Dundies, from the comments and interest from the general public/friends and through my personal social media account as well as Sophie's Insta page of images of her first nappy, I knew then I had something potentially big, literally right in front of me.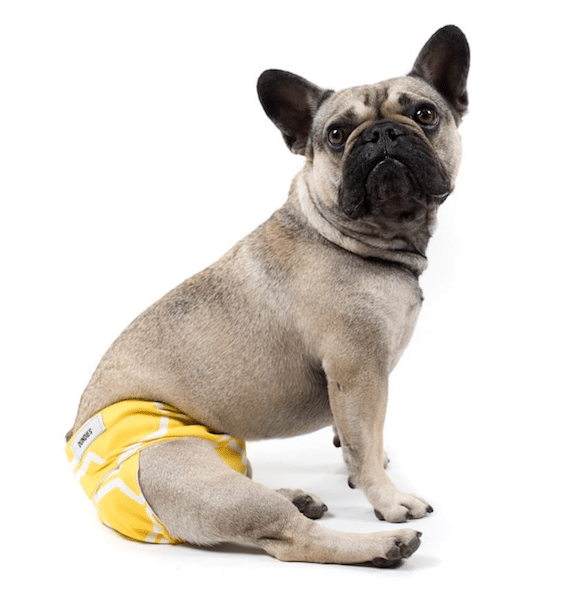 What are your vision and goals for the company? Where do you want Dundies to go?
To grow Dundies to be 'the name' in the pet hygiene world both nationally and internationally without losing that personal feel. No doubt there will be others out there who will try their hand in the dog nappy business but I would love to be known as the original and best.  I would love to have my own warehouse and production/marketing team working hand in hand with me.
Images provided by Dundies